Post by Brian Melanson on Feb 11, 2018 13:56:09 GMT -6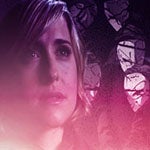 REVIEW:
"Into The Dark"
I just wanted to leave some quick thoughts on the series premiere. Obviously, we've lived with the pilot for a while now, going through the stages for pick-up, so you already know a lot of my thoughts on "Into The Dark." Similarly to what Matt said, there are a lot of familiar tropes and parallel story beats and character archetypes from
The Vampire Diaries
, but part of what made me want to pick this show up was that it did seem to tell a
different
story — one about "forbidden love" in the realm of a vampire and a hunter. And the series premiere does a really great job of establishing that connection between the main protagonists, Phoebe and Clark, while setting up the thing that could inevitably break them.
Hi Jack! I'm so excited you read it! I know you've been busy. But yes, TVD was HUGE for this show. Considering my tragic love for it. I knew from the start of planning this, Phoebe and Clark, by destiny had to be mortal enemies. Phoebe might not know it yet. Clark might not know it yet. But that's what makes it so exciting. Clark and Phoebe really kick this show into high gear and this, in the end, is their story. I'm really happy you enjoyed that.
One detail I really loved about the Phoebe/Clark story in the premiere was the through-line of touch and how their hands barely grazed each other throughout, and there was almost this longing that they couldn't quite explain, and then the episode ended with them finally holding hands. I just thought that was a really creative way of establishing that there's something more here.
That was something I loved to write. That "electric" feeling between them. I know when I was writing it, it was going to be a bigger plot. It would be Phoebe's vampire senses saying HEY THIS GUY IS NOT GOOD. And Clark's inner hunter being "HEY THIS IS A VAMPIRE" But they just didn't notice it because they were so enthralled with each other. But I think when you meet someone and you just have that spark, it just is a spark. I'm happy I didn't change it because it's a nice way to start their relationship. And in 1x02, Phoebe and Clark open up to each other more so it's fun. They found each other when they needed each other the most.
I do often have problems with Phoebe's characterisation because she's 200 years old but it sometimes feels lost or forgotten and she's written as though she really is seventeen years old — but not in a "trying to fool people" kind of way. I hate to be the person that sides with the male lead over the female lead, but Clark just hooked me in quicker and I think I do have quite a vampire fatigue from all the Buffy's and the Angel's, and the True Blood's and, of course, The Vampire Diaries. So him being from a bloodline of hunters just excites me more, and I think it's that potential conflict that could drive a stake (badum tss) through the heart of this love story that has me most hyped up for this show. The repeated themes of Romeo and Juliet and tragedies — while a little too on the nose — just foreshadowed a lot of really great things to come, and I hope the show follows through with these ideas in hopefully new and creative ways.
Phoebe was hard to write. Because originally in the planning process, Phoebe was a human girl who over the summer turned into a vampire. Clark would already be a vampire hunter and stuff like that. But as I got to writing it, it felt weird. And I was looking at the history of the town, I ultimately decided that Phoebe should be 200 years old and have this long drawn out history. I think I should've spent more time focusing on Phoebe trying to cover her story. But I think, she has done this before. It's probably easy for her at this point. Maybe I should've gone back and been like, HMM how can I fix this. But in the long run, she has done this before and I just didn't get the execution quite right.
As for Clark, I'm really happy you like him! He's a character I was worried about writing because I went through so many iterations of him. This is the one I am the most proud of. As the season grows, Clark will learn more about himself and his legacy in his town. While grieving his parents, he's found that maybe he could fall in love with this new girl who just sits there, listens and doesn't judge him for being sad.
The Romeo and Juliet stuff, let me tell you, this was going to be an adaption of Romeo and Juliet. And in the long run, it kind of will be. While going forward, it won't be so in your face, there will be elements from it such as a feud, star crossed lovers; etc. Things I have planned for future seasons, will reflect some other elements, but it's stuff that's not quite ready to happen. But going forward, it won't be so "on the nose" but more of a subtext.
- I mean, I immediately didn't like Vanessa and kind of wished her whole subplot of "you cheated on me" was just cut from the premiere, haha.
- Courtney seems pretty interesting, more-so because there are hints of her being more than meets the eye, but she had a nice dynamic with Phoebe that sold me on her too.
- Bennett had some awkward moments that were endearing.
- I appreciated the attempt to make Kate a character that we liked before killing her off, but it all kind of went down the drain for me when the bulk of her role in this episode was being super high at a party — not that I'm judging, it just wasn't doing anything for me.
- Bradley seems like he'll be the typical "I'm an a**hole" character that redeems his image as the show goes on. I wish it was more subtle, though, if that is in fact the case because having him actually justify his behaviour as "I'm a dick" is a level of self awareness that just didn't seem realistic to me. If we're suggesting he's a dick just to be a dick and there's nothing underneath that at all, then it's pretty limiting where he can go as a character, and his interactions with Mal made it seem like there was more to him, so I hope the latter is true.
- Chloe had a nice dynamic with Clark. I feel like she has the potential to be a really great character so I'm interested in seeing where things go for her. Hopefully it's not her death that triggers the "Hunter" calling in Clark.
- I liked how you referred back to the episode opener with Brock now being turned at episode's end. It just impressed me to see that structured out so well and to see that there was more significance behind that opening.
- Vanessa is the mean girl. She's a character that I just wanted to have. She is important to Mal's plot in the long run, so hopefully this plot won't go too crazy because going forward, Vanessa is Mal's antagonist.
- Courtney is my favorite character to write. She's snarky, she's witty, she's fun, she's kind. But she's also a bit broken and lost. She's trying to find her way and that triggers a whole new side of her that she didn't even know she had.
- Bradley is a dick. Let's be clear on that. That's why we have Mal. The girl who's heart he broke. She is going to bring out the best in him. And he's going to see in the next episode, that maybe life is too short to be a dick. He needs to make a change and grow up. Otherwise, he's stuck in a cycle of breaking hearts and not having love. And Vanessa is on the war path, she doesn't want him to be happy. In fact, she wants him for herself. That's why she's so pissed at Mal for stealing him. Someone else cared about Bradley and he realized that he cared back. It's going to be a fun little love triangle. But in the next episode, it'll all be clear what's happening next.
- Chloe is another fun character. Like Clark, she just lost her parents too and suddenly has to take care of her younger brother. She finds herself struggling with doing what is right or following her families legacy. The Adams Hunters have a very cool story. I can say we will get a little taste of it this season and I have fun stuff planned for the future. And as for Clark finding out he's a hunter... well, something else triggers that. And it's not a death.
- Brock was fun to kind of book end the pilot. He will be back in the next episode and he does some fun things. He kind of brings us into Evelyn's plot for Phoebe and the town. So he's really a bridge.
As for the antagonist, I'm excited to see where things progress with Evelyn and what her goals are in all of this. She referred to Phoebe as her "little sister" so that's obviously something — and I love that this is a threat that will clearly have a lot of history behind it, and will most likely be personal. I think that's the perfect type of threat for a first season.
Evelyn is the most fun to write! She's just a big ol' B. Evelyn has a goal and she will do everything it takes to get there. Phoebe and Evelyn's history is VERY rocky. There is a reason why Evelyn is doing all of this and there is a reason why Phoebe doesn't talk about Evelyn. It's fun. But Evelyn's plan, brings us into an even bigger plot that's looming in the shadows. And Evelyn isn't the only big bad we are going to be facing.
The epilogue felt a little tacked on at the end and I'm not sure if it was completely necessary. I'm not really sure what to make of it. But I love a good mystery, so I guess we'll see where that goes in the coming episodes!
The epilogue, I will admit, was tacked on. It was kind of to show, hey there's this death and it's sorta important for the next episode. But the big part for this epilogue, was the Hood. The Hood is a character you need to look out for. He is someone that you don't want to mess with. But the real big question you should be asking yourself... Who's under the Hood?
All in all, it's a pretty solid start to a series. I feel like there's a lot of pieces on the board you established in this episode, and the fun is going to be seeing how those stitch together throughout the season. The through-line of it all was Clark and Phoebe, their stories as individual characters with their own history/past, but also their burgeoning love story that is bound to happen. And I can't wait to see how it all unfolds. Personally, I'm more excited about the Adams, and the Hunter side of things, so I hope we see more of that sooner rather than later. Good luck with the series, Brian. It's nice to see you back airing on theVPN!
Thank you SO much for reading, Jack! I appreciate it and love hearing your feedback and things you loved and didn't. I'm excited for you to see what's coming next. It will make you excited to see these characters grow and see where the story takes us. I'm happy to back airing things again on theVPN. I've missed it. Til the next time!