Post by Brady Brown on May 5, 2012 20:38:16 GMT -6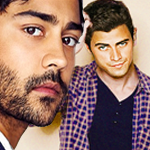 Review of 1.01 | "We Have Arrived"
I like the opening scene. We are introduced to Alex Beretta and discover he and his father are new to the city and are looking to get Alex an agent. I like the fact that Alex's father is so supportive of him, this early on. He's seems almost like the "cool uncle," type of character, even though he's Alex's dad. Throughout the pilot, he stays supportive, and there is a hint of that grief with the mention of his deceased wife. For me, I think this is one of the strongest characters so far.
First off, thank you so much for taking your time to read and review the pilot, Chris! It's greatly appreciated! Now, time to reply:
I'm really excited that you like the opening scene! And I'm glad you like Michael's character. I've never written anyone quite like him, and it's a nice change. And yes, he misses his wife dearly. I'm going to try and explore this are with him, if this is picked up, and actually show how it has impacted his life, and his actions. And I'm so glad you like him!
Our two main characters, Alex and Alisha, I think work pretty well off one another. I think the tone of the show is good, but I would have enjoyed it more if it had more humor, like Entourage, but less raunchy and age-appropriate. But that's just me. I think with Paula being introduced at the end, it will get even more comical, because she has such a quirky, goofy personality.
Alex and Alisha, the two best friends! I'm glad they came across that way to you! Episode two, I think, packs more humor than the pilot did. Paula has been introduced and anything can happen with her around!
Nothing particularly wrong with the stage directions and exposition, but some of the dialogue was a little... I don't want to say "plain," but a little underwhelming. The thing with webisodes is... dialogue is VERY important factor and it must stick out, because you only have about 10-12 pages a episode, and with such a short time, the dialogue works best when it's not too conversational and ordinary.
I can see what you mean by this. And I take it into consideration very much. I was trying to introduce the characters as best as I could, but I didn't want it all to be with dialogue. I'm not a fan of almost all dialogue and no description, and I understand that you're not trying to say that it needs to be like that. I'm super glad you pointed that out!

The main point I'd have to relay to you is to work on the identity of the characters, which will help with establish a unique tone for the show. A suggestions; Satire, I think, would work extremely well here.
I can totally see what you mean by their identities. Again, I tried to introduce them as best as I could, and I'm sorry it didn't work out for me in the end.
The story so far is solid. Overall, a very straightforward first episode. Going to be reading ep.2 soon!
Thank you so much, Chris! I loved this review, and I can't wait to read your review for episode two! ;D