Post by Brady Brown on Apr 2, 2012 21:29:59 GMT -6
Sequence One Premise:
Alex Beretta
(Josh Hutcherson) has had a dream since he was twelve years old. He has always wanted to become an actor. He wants to win Oscars, Golden Globes and SAG awards. In the midst of middle-school, he auditioned for the amateur plays being offered. He started off in supporting roles, but quickly migrated, when he entered high-school, into the leading man. In his sophomore year his mother died in a car accident, leaving him and his father,
Micheal
(Patrick Dempsey) on their own. Struggling to maintain his grades, he posted an ad for a tutor on the school bulletin board. And to the rescue came bookworm
Alisha Hall
(Alyson Stoner). And so from then on, they met at Alex's house two nights a week, to study where he struggled. So, Alex and Alisha soon developed a friendship that would last a lifetime. They became best friends. Through his junior and senior year, Alex auditioned for his school's spring production, and instantly gained the lead. And during his senior year, he convinced Alisha to audition with him after witnessing her mesmerizing acting. Alisha almost instantly fell in love with acting.
Now, they've both decided to skip out on a year of college to follow their dream. They've packed up, along with Alex's dad, Michael, and headed from their small town in Georgia all the way to Los Angeles. There, they are discovered by talent agent,
Paula Smith
(Amy Adams), who almost gave up hope on finding the best performers.
And now, with the help of Michael and Paula, Alex and Alisha are on a mission to become the best thing Hollywood's seen in a while. But first, they must book an audition to make it happen…
Characters:

Alex Beretta
: An outgoing, funny, and sometimes sarcastic aspiring actor. He is very close to his father and will go out of his way to make him happy. He is also highly protective of his best friend Alisha, who he will do anything for. A great talker with anybody and a natural in front of a crowd. Only if he could improve his grades. Portrayed by Josh Hutcherson.
Alisha Hall
: A shy, quiet, stereotypical bookworm. But she's the sweetest girl you'll ever meet, once she finally talks to you. Her parents were a little skeptical about letting her leave with Alex and Michael, but she finally convinced them otherwise. And before an audition, she must always run through it with Alex, or she'll chicken out. Portrayed by Alyson Stoner.

Michael Beretta
: Since his wife's passing, he mainly keeps to himself. And once you break through his shell, he'll do the same. Whenever he thinks of his wife, he almost instantly feels depressed. Sometimes he cries until no more tears flow. It didn't take a lot of convincing for him to take Alex and Alisha to LA, because he wants his son to succeed. Portrayed by Patrick Dempsey.

Paula Smith
: A quirky, jolty, out-of-this-world, cartoon-type character. She's always flustered and tries her best to make Alex and Alisha succeed. Most of the time she's always on her blackberry or her tablet. She may not be the best agent, but she will certainly do anything and everything in her power to be the best. Portrayed by Amy Adams.
Recurring:

Jordan Langston
: The young actor who thinks he's "all that". Been in many commercials and had small roles in television, all he does is brag. Boyfriend of Angela, he usually mistreats her, wanting to be "top dog". When he meets Alex and Alisha he instantly despises them, because he thinks they could steal his thunder. Portrayed by Nathan Kress.
Angela Davis
: The drama queen actress who does her best to impress her boyfriend, Jordan. Thinking she's the hottest stuff on the block, she, along with Jordan, brag about her looks and acting ability. Like her boyfriend, she instantly despises Alex and Alisha upon first sight, because she doesn't want competition. Portrayed by Elizabeth Gillies.

Episodes: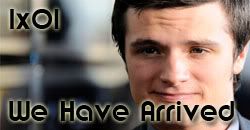 We Have Arrived
: Aspiring, young actors Alex (Hutcherson) and Alisha (Stoner) packed their bags with Alex's father Michael (Dempsey) and made their way to Hollywood to pursue their acting careers. While there, they meet talent agent Paula Smith (Adams) practically begging for the newest talent in LA. With their newfound "team" formed, their mission is to succeed and do nothing but succeed. But they're in Hollywood. Where anything could happen.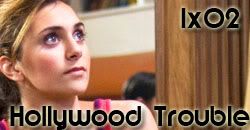 Hollywood Trouble
: Tension begins to rise when talent agent Paula (Adams) can't book a photographer for headshot for Alex (Hutcherson) and Alisha (Stoner). And wanting to help them succeed, Paula tries to pull out all the stops for a photographer, and begins to work nonstop. This causes Alex's father, Michael (Dempsey), to begin questioning if having Paula as a talent agent was such a good idea.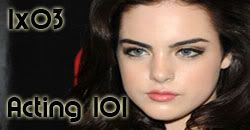 Acting 101:
Paula (Adams) believes that enrolling Alex (Hutcherson) and Alisha (Stoner) in a local acting class will help them scrape in more auditions. Michael (Dempsey) also agrees, so Alex and Alisha are shut out of an argument. On their first day they meet rising hopefuls Jordan (Kress) and Angela (Gillies), who are at the top of the class. Instantly hating them, Jordan and Angela try and find a way to make them miserable in the class that they're supposed to rule.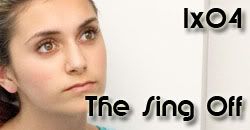 The Sing Off
: Alex and Alisha's acting instructor (Guest Star Annette Bening) has decided to do a class activity, in which she pairs two students together, gives them a scenario, and tells them to act it out through a song. Alisha (Stoner) starts off ecstatic and Alex (Hutcherson) doesn't. But Alisha believes she can show Alex the ropes of singing. But things take a turn for the worse when Alisha and Angela (Gillies) are paired together, which lights a fuse between the two. Dempsey, Adams and Kress also star.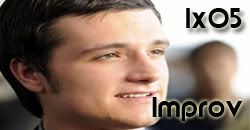 Improv
: Improv hits Alex (Hutcherson) and Alisha's (Stoner) local acting class, and Alisha isn't very happy. Having to make something up on the spot isn't her forte. Especially when she can't run it through with Alex. But Alex is stoked. He loves pulling the crowd in and giving them something they would pay to see again. Alisha begins to feel safe, because she will have Alex by her side. But that soon changes when it is revealed that this exercise will be solo.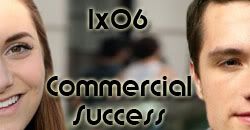 Commercial Success
: When Paula (Adams) receives a call saying they need two young adults to star in a television commercial for a new line of clothing, she instantly begins to jump for joy. And when she tells Alex (Hutcherson) and Alisha (Stoner), Alisha couldn't be more thrilled, but Alex doesn't want to be in something as small as a commercial. He wants to be in something bigger. Can Michael (Dempsey) convince Alex to change his mind, or will Alisha loose her acting partner and do the commercial solo? This commercial could mean big things, but could mean pure humiliation. Arc One Finale.
Creator's Notes:
Acting is very important to me, and I've always had the idea to use it to develop a VS, and out came "Audition". This is a drama, which is stepping way out of my comfort zone, and I'm hopping people can enjoy it. Each sequence will consist of 2-3 arcs at 6-8 episodes each. So more episode descriptions coming soon! Fingers crossed you guys like it. Any feedback is greatly appreciated!
THEME SONG:
www.youtube.com/watch?v=EwFUVJYA9_I
I decided that at the end of each episode this song would play. Like, this would be the "Fade Out" signal. Hopefully that makes since.
I want to write a show, where each character is focused, I wouldn't say equally, but are focused to their potential. Each main characters will have either one or more episode focused on
their

dream. Alex and Alisha: Acting Paula: Becoming a successful agent. Michael's dream is basically showed in each episode. His dream is for his son to succeed. I hope that doesn't confuse anybody.
;D