Post by Alex Matthews on Feb 26, 2016 13:01:47 GMT -6
TALKING WITH TEN CLOUDS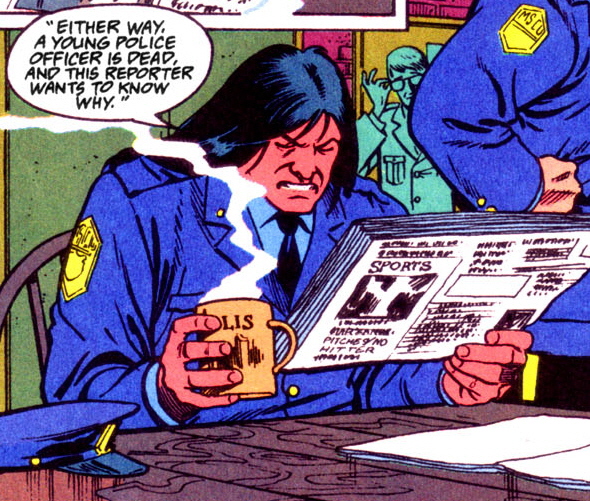 [BE WARNED: INTERVIEW CONTAINS SPOILERS FOR THE SEASON FINALE!]
Given the events of the most recent episode and season finale of "
Metropolis: Special Crimes Unit
",
VSGuide
tracked down and spoke at length with Gregory Cruz, the actor who has portrayed Detective Sergeant Russell Ten Clouds from his first appearance in the second episode of the season, "Foundations", until the characters sudden and shocking death in "Playtime".
VSGUIDE | First of all, welcome (and goodbye) to the VPN, Greg!GREGORY CRUZ |
Thanks! It's about time you got around to me, all it took was me dying! (laughs)
VSGUIDE | Speaking of, let's get right to the heart of this interview, and talk about Ten Clouds death. When did you find out your character was being written out of the show?GREGORY CRUZ |
Honestly? I knew from the start. After the audition, Alex took me to one side, and told me very plainly that he'd love for me to be his Ten Clouds, but that he wanted to be honest with me about what the character's life span would be in relation to the series as a whole. I knew I really wanted to play this character, because he's very grounded and down to Earth, he's very much a straight man to the rest of the department. This really came across a lot more in later, more bizarre episodes, like "Resurrection", the zombie one - I loved how he tried to keep everyone real, looking for more realistic options before finally admitting it and then just going with it.
VSGUIDE | How did you join the show in the first place?GREGORY CRUZ |
When the role came up, my agent put my in for it, and I think the fact I'd worked on "
Saving Grace
" for several years prepared me not only for a procedural show, but also for one that exists in a universe where things are a little different from the real world. The difference was this time my character got involved in those elements a lot more, and that made it a lot more fun! I enjoyed every episode I worked on.
VSGUIDE | Is there a favourite episode that stands out among those you worked on?GREGORY CRUZ |
The zombie one, that was a lot of fun, if just for the scene in the squad room bull pen when myself, Jill and David are watching Chris and his character's new love interest talking, and I'm all like "tell him how you feel, for pity's sake!" and then give him two thumbs up! Jill and David couldn't keep a straight face, it took a good few takes to get that done! I really enjoyed any scenes I got to have with Fran as well, usually because he'd make a joke just before we started filming, so I'm trying not to laugh at something he just said, and be the dour-faced Ten Clouds.
VSGUIDE | What about a scariest moment?

GREGORY CRUZ |
That would have to be from my finale episode, when I had to interrogate [special guest star] Chris Gauthier. Because he wasn't playing the original Toyman, he went to town in playing up the insanity that seemed to drive the character before you realize it's a robot. It was very, very creepy, watching him sing those nursery rhymes through the glass, not to mention being in the same room as him.
VSGUIDE | Let's talk about the actual death scene. How did you feel going into it?GREGORY CRUZ |
Everyone knew what was coming, since the readthrough, but it was still very emotional saying goodbye to the character in such a sudden and surprising way. The producers told me that originally, Ten Clouds had planned to be killed in the actual explosion itself, being in the interrogation room when it happened, but it went through several rewrites, in order to make it more of a OMG moment at the end of the act, to catch the audience by surprise. That's why Todd was badly injured instead, as a slight misdirect.
VSGUIDE | What will you miss most from your time on "M:SCU"?

GREGORY CRUZ |
I'll definitely miss driving around the city sets in our unmarked sedans, with the gumball going! And strange as it may sound, I'm glad I got to keep my detective badge, it was a goodbye gift from [series creator] Alex Matthews. I'm told that back on "Smallville", they only had a couple of generic detective badges made, but for "M:SCU", they made personalized badges for all the major police characters, and I was given mine after my final scene. But I'll really miss working with all the 'squaddies' - that's what we started calling all of us who spent most of our time in the S.C.U. Squad Room set. I hear they're getting a completely new set for the second season, I'm kinda jealous I won't get to see it!
VSGUIDE | Any final words or comments for the viewers?

GREGORY CRUZ |
Only to thank them for their patience with how long the season took to finish, it's something we were all proud of when we finished. Also, I can reveal a slight spoiler, that although Russell Ten Clouds may be gone, his story isn't over and his presence will be felt quite a bit during the second season.
Are you sorry to see Ten Clouds go after just one season? How do you feel about his death? And what do you think was meant by the comment about his story not being over? Sound off with your thoughts and speculations below, and don't forget to check out the new
Season Two Spoilers & Speculation
thread for more news and reveals about the next season of "
Metropolis: Special Crimes Unit
"!!