Post by Brady Brown on Nov 7, 2015 19:16:38 GMT -6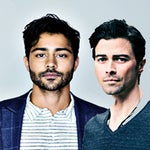 REVIEW:
2.03 |
"Super Friends"
This was such a cool episode and sort of wish fulfillment in that since the beginning of the series I've been hoping in the back of my mind that Lucy and Fred would someway, somehow get powers of their own. So thanks for fulfilling that little fantasy of mine, even long before I started reading this series! haha But onto the nitty gritty of the episode, someone's kidnapped Audrey Swankins. The episode scene set up the big mystery of the episode, and it's a mystery that kinda sorta gets solved, but not fully. I'm hoping we get more information on George, who he is and what he really wanted. At one point I thought the person that kidnapped her and the person that gave Lucy and Fred powers were two different people, but it turned out to be the same person. I don't know why that was unclear to me when I read it. Maybe I'm just kinda slow. HAHA! But anyway, I've said all this without saying much at all. So let me try and focus.
Thank you so much for this review, Chris! I'm so happy you enjoyed this episode. I wanted to solidify early on that Fred and Lucy feel as thought their help isn't enough when they're surrounded by superhumans. Them getting superpowers was very much putting them into the shoes of what Janice, Clark, and Sara go through on a daily basis, so I'm glad that came across to you. I can't say that George comes back into the fold anytime soon, but his actions and his reasonings for what he did will. I also wanted to bring in recurring characters like Audrey and Edward back into the mix, while also adding onto Ryan's arc throughout the season, which has a lot to do with secrets themselves. They just might not be his own.

The scene where triplets are testing out their powers was a fun scene, even though I was worried about Sara with that knife. Honestly, she needs to find a new place to cut herself. Oh my god. I don't care if she'll heal right after. LOL Anyway, it was just a nice, lighthearted scene between the three of them and it was refreshing to see amidst all the drama with Debbie. And we got to see Paco in this episode, which I really appreciated. Even though he was sad and missing him mom. I feel the same way, Paco.
That scene was probably one of my top 5 triplets scenes to date. I just loved that they were testing out their new powers and arguing about them. Reminded me of my siblings and I haha. I'm so in love with the fact that you love Paco. And I'm sorry about the knife! Sara doesn't think! Ahh!
Fred and Lucy discovering their powers was fun. And your choice of abilities was quite unique as well. Lucy being able to suspend gravity instead of just the expected telekinesis and Fred being able to create black holes/portals instead of teleportation the usual way. Definitely not what I was expecting and very very cool. I think this was a nice episode for them because it gave them a chance to step in the triplets shoes and understand what they're feeling, while also realizing that they can be important and useful to their friends with or without abilities. That scene at the end with them asking to be trained has got me very excited! Looking forward to seeing where that all goes.
I love coming up with new abilities for people. It's definitely one of my favorite parts about the series. I totally highjacked this point and talked about it two paragraphs up so I'm so sorry hahaha. But yeah, Lucy and Fred are still trying to help as much as they can, which is going to lead to some scenes between them and the Uucsio's

There seems to be some issues between the Uucsio's this week. Elise has emotional and physical needs that the good doctor's just not fulfilling. I liked that conflict we saw with Dr. Uuscio having to choose between helping people and being a good husband to his wife. It was nice to see some good drama there and it was very realistic too. Obviously, I like that it was resolved in the end because those two are too good together to be at each others throats. haha!
I really wanted to ground the sci fi element by showcasing real life situations and problems. I think Dr. Uucsio is a very helpful man, and he hasn't done anything wrong, and neither has Mrs. Uucsio. I think selfishness is a really big, important part of human nature, which is why I included that talk with Jane. Elise deserved to be a little jealous. But I didn't think it needed to be dragged on, so I'm happy you liked that it was resolved by the end of the episode.
YES! Debbie is back! I missed her in the last episode. Alexander just keeps proving just how maniacal and psychotic he is with what he puts those recruits through. And we find out Shela has abilities!! Another teleporter! I seriously did not see that coming, but I'm so glad because that means she'll be sticking around for a little while longer. Debbie got lucky here, since Alexander thinks she still has powers. I don't know how long she'll be able to keep that up but knowing her, she'll figure something out. I'm still half-hoping she developed a second ability that she doesn't know about yet, but I doubt that'll happen.
YAY! The decision to give Shela superpowers was always an immediate one. Chosen has very much changed from how they first started, and this is an example of that. They only wanted superhumans, and that's going to be explained through the season, as well as what they're actually planning. Debbie can only hide for so long, so you'll have to wait and see how she gets around that, if it comes to light.
Overall, a very solid episode. Looking forward to seeing what's up with Janice's vision in the next one! Bring it on
Thanks again for reviewing, Chris! Your words and feedback mean so much, and I'm so happy that you're enjoying the show. Hope you enjoy the rest of the released episode!