Post by Jack Malone on Jan 1, 2010 5:19:51 GMT -6
STARRING
Michael Rosenbaum
Josh Radnor
with Greg Grunberg
Busy Phillips
Jennifer Carpenter
and Brett Claywell as Jonathan.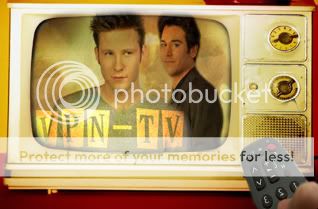 WELCOME TO THE LIVES OF CHRIS DAVIS & JACK MALONE -
Building up their new Network, the
VPN (Virtual Productions Network),
roomates
Chris (Michael Rosenbaum)
and
Jack (Josh Radnor)
pick up
Brian Melanson's (Greg Grunberg)
pitch
VAMP
, on default, and find themselves facing dire consequences as it airs its first season. But their lives outside of work prove to be going even worse, when Chris decides to date his best friend
Kelly (Busy Phillips)
; and Jack has to take up a part time job when her sister
Alana (recurring guest star Mercedes McNab),
moves in without any money to help with rent!
Also stars Jennifer Carpenter and Brett Claywell.
THE NETWORK PICKS UP ITS FIRST SHOW - Picking up their first show out of frustration, Chris (Michael Rosenbaum) and Jack (Josh Radnor) struggle to see this new series bringing their network up to the big leagues. And when hearing the ideas in the writers room, all their doubts come rushing back. Meanwhile, Chris's parents come to celebrate their first show's premiere, but seems to make his night that much worse.
AUDITIONS FOR THE NETWORKS NEW SHOW BEGINS - When casting begins for Brian's (Greg Grunberg) new show, VAMP, the network turns into a mad house filled with amatuer actors that wouldn't know the right side of a camera if it came up and bit them. Meanwhile, Jack (Josh Radnor) is sent on a blind date; and Chris (Michael Rosenbaum) goes to an afterparty to make some new connections.
THE NETWORK'S NEW SHOW FINALLY AIRS - Having finally finished filming the first three episodes of the VPN's new show, an official air date has been set. Excited for his show, Brian (Greg Grunberg) hosts a premiere party at his house, inviting the Head Executives Chris (Michael Rosenbaum) and Jack (Josh Radnor); but hanging out in the basement of his parent's house all night isn't all that its cracked up to be! Meanwhile, Sam (Jennifer Carpenter) and Kelly (Busy Phillips) try to prove to Jonathan (Brett Claywell) that they can be sophisticated women, by going to memorabilia auction that goes terribly wrong!
NOTES FROM THE AUTHORS
This is a series loosely based on the events taking place in the first year of the VPN's creation. Chris Davis and Jack Malone are Co-Presidents of a new network, where newcomer Brian Melanson comes alone with a pitch of his VAMP. There will be 22-24 episodes planned in the first season, and it will be written in official SITCOM format. Jokes will flow through all scenes, and hopefully be laugh out loud funny.