Post by Brady Brown on May 15, 2015 9:09:11 GMT -6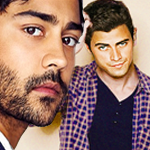 2.01 - Fury
- Great episode to kick off sequence two! Seems like some time has past, but not that much time. Alex is still full of regret and anger and has yet to find closure with Alisha. I like how things picked right back up where we left them in sequence one. I think this is the second scene where it's just Alex and David. I like that he's worried about Alex, and has been making sure he's okay. The scene with Paula. You know which one I'm talking about. haha Just that bit of Paula in an episode can turn a good episode into a great episode. haha She just kills me every time. YESSS!!! Alex punched that smug look of of Jordan's face! Ah, small victories. The awkwardness between Alex and Alisha was really realistic; friends go through times like that, and it was nice to see them pull through and find that closure with one another. They're both sorry for how everything happened, and can finally move on knowing neither of them resents the other.
I remember that I definitely wanted to showcase the anger characteristic that Alex has, because it will come up again later in the series. I also really wanted to develop the friendship that he has with David, because I love writing their dynamic. And Paula!!
The punch, the awkwardness, the moving on was all a part of Alex's much needed development that he had from s1, so I'm glad that seem to come through

2.02 - Dialogue - Well, a lot of conflict in this episode. Alex is still feeling guilty about Alisha going back to Georgia. And he's still blaming Jordan and Angela. I loved that David stood up to Jordan here too. It's nice to see him and Alex having each other's back. I like those two as friends. The big surprise this episode is that ending with Jordan slapping Angela. I'm really scared for her. She's in a very abusive relationship and I just want her to get out while she still can, before it gets worse, which of course it's going to.
I really loved writing David more than usual in this episode haha, especially with him standing up to Jordan. I felt like it was such a good moment for him. *cries* This is all reminding me of Jordan and Angela - haha hopefully I portrayed their storyline in a appropriate and realistic manner.
2.03 - Take a Break
- Detective!Paula in the beginning. She's so freaking cute, God I love it. I feel like Michael is so done with everything at this point. All the craziness, the screaming cavemen, and everything. He just starts spraying Paula and the kids like they're wild animals, I can't deal with this episode. Oh man, I wasn't ready for Miranda flashbacks, dude. MICHAEL FEELS! We haven't really got much from him since early on in sequence one, regarding his relationship with Miranda at least. I really liked seeing that. We can see that it's still something he constantly thinks about. And here we have the introduction of a few more characters. Jace and Rose. I'll leave my remarks about the for another episode
But all in all, this was a pretty nice episode. Lots of world building stuff, with the new characters, especially Rose, who I'm sure will be sticking around a while.
Yay for more Paula love!
Omg, I forgot Michael did that hahaha! But yeah, Michael was a lil bit fed up. I always try and shove some Michael feels into every sequence, and I think it's definitely gotten better in s3, and will continue to improve in s4. Miranda will always be a part of the show, because she lives through Michael, she affected him in such a huge way and shaped the man, and father, that he is today.
2.04 - Memorization is Key - I'll start by saying that I like the parallel between Michael and Alex. They both feel as though they had a hand in Alisha's decision to leave, and I thought that was a nice touch to the episode. We've been getting more from Michael these past few episodes and I'm loving it because we hardly get to see him unless he annoyed with Paula. Great character moments from him in this episode. And then we find out that he blames himself for his wife's death as well. Just a bunch of Michael feels this episode and the last. I hope he can find a way to forgive himself and find peace in his heart. Because that's tough. We get another look at Rose here and find out she's a BAMF! HAHA! I loved how she stood up to The Devil Duo like that, without even knowing them. I'm beginning to feel like Jordan has legit anger management issues that he needs help with. And I feel kinda bad for both him and Angela, tbh. This is going to get messy.
Michael/Alex are some of my favorites to write, and when I can parallel, shove them in scenes together I jump at the chance haha. Yay for Michael love!
I'm so glad I decided to let Rose stick around, because I love writing her now lmao.
2.05 - Lights, Camera, Action! - Of course the trio (Rodalex? Heh, it probably won't stick) and The Devil Duo are filming on the same location. And in true Audition fashion, Angela and Jordan continue to be the thorn in everyone's backside! The more and more I see of their relationship the worse I feel about Angela. She really is doing whatever it takes to make Jordan happy, and stay on his good side, and it's really quite scary that she's living like that. I hope things get better soon. The Alisha withdrawal is strong in this episode. I really miss her and I like how the characters are missing her as well. Even though I love the new dynamic we have in Alex, David and Rose, I'm interested to see how Alisha's ultimate return can affect that dynamic.
RODALEX! HAHA. Yeah, I definitely wanted to showcase Angela and give her empathy from the audience. Glad I achieved that. What do you mean Alisha's ultimate return? What?? WHAT?!
2.06 - Perform
- MICHAEL WAS SOO CUTE IN THIS EPISODE! HAHAHA! That "It's going to be the hottest and the most bomb diggety thing in the hizz-house!" line just makes me wanna die, oh my god. Glad he's seems to be doing better and has a moment to have that light, comedic moment, though I do love the dark stuff as well

CASSANDRA IS ROSE'S MOTHER?!?!?! (pretends to be surprised) But no, that was great. They were all so shocked and disturbed. The Devil Duo are up to their usual tricks. They're so childish, oh my god. But I'm glad they lost this round. Felt really good. Paula's outburst on the drive back home was perfect and priceless. She is so precious and I can't even explain my love for her. She must be protected at all costs. DAT ENDING!! She's back baby!
Onto the next one...
Yay! More Michael love!! you're not actually surprised about Cassandra? what?? (is joking). I try to find a balance between who usually prevails in these situations, and Alex and David ultimately came out on top this time around. Awww precious Paula! And yep, she's back

2.07 - Miss Me? - I love how worried Michael was for Paula, when everyone else was so focused on Alisha, he just wanted to make sure his bestie was okay! *SOBS TEARS OF JOY* Then Paula knocking Michael out. Hahaha! I'm dying. Jesus christ, David and Alisha are really sucking face for a long time. Get a room you two! Wow, this was a pretty short, laid back episode. But it's good to have Alisha back. And it was nice to see everyone just kinda relax. Things got a little awkward between Alisha and Rose. I can't believe it took Paula text messages Alex before he introduced them. Haha! Really nice episode. Just a little worried about that Angela/Jordan scene. He's really gone off the rails this time.
God, I remember that scene hahaha! So much fun to write that craziness. This was definitely a turning point for Jordan. He's definitely let his anger take full control of him, and there might not be any coming back.
2.08 - Oh, Hey You!
- It's been how many episodes of Audition so far? 20-something? And Paula never ceases to crack me up haha! She's honestly in my top five favorite VS characters. Her bubbly, out there personality and wit just make me fall in love with her every single episode! I liked the little talk between Rose and Alex about Alisha, and how he still feels guilty about her leaving. That was some nice development for their relationship and I really can't wait to see more of that
It's official. Jordan has lost his mind. He's completely snapped. I'm terrified at what he might do next! Glad everyone is okay though. Overall, good episode. Some cool development between Alex and Rose, David and Alisha, and we even get a little bit of Paula/Jace *sobs*
Yay! Haha! That's a really awesome compliment, man. Rose and Alex have some of my favorite scenes, especially in s3 and I love them together so, so much. Yeah... Jordan's pretty much gone. And Angela might be caught in the crossfires, sadly.
Thank you sooo much for taking the time to leave me these reviews! They're so awesome!! I can't tell you how much I appreciate them!