Post by MJ on May 31, 2010 23:26:23 GMT -6

Synopsis
Edge of Vision
is a supernatural crime series set one hundred years in the future. Fifty-four years before the events in
Edge of Vision
the human race was suddenly introduced to an alternate plane of existence when The Fracture was formed. The Fracture was a break in the theoretical wall that separated the human world from its parallel plane of existence, which soon became known as Pandemonium. Pandemonium represented its namesake in almost every sense of the word. It was a place of chaos inhabited by human-like creatures, who became known as Demons, and they were more than happy to cross over to Earth when The Fracture appeared. These Demons were similar in nature to the world's worst criminals and it wasn't long before a new branch of the police force was set up to deal specifically with crimes that involved them.
Victoria "Tori" Lance (Zooey Deschanel) is one of the Demon Crime Investigative Unit's (DCIU) detectives and a Sensitive with the ability to tap into and sense the energy from both Pandemonium and the Demons that cross over. Under the watchful eye of their boss, DCIU Special Agent Nora Fields (Paget Brewster), Tori and partner Detective Lloyd Harmon (Michael Chiklis) work to take down the Demons wreaking terror on their city, Barton. With the help and support of Dr. Cassie Brewer (Isla Fisher), DCIU's coroner, and Technical Analyst Adam Parker (John Francis Daley), Tori's life is just where she wants it to be. Of course, nothing's ever perfect for long and Tori soon find herself the obsession of a Demonic serial killer (Callum Blue). Just when she thinks things couldn't get any worse an unfortunate event leaves Harmon out of action and Tori is left to partner up with the new guy with an attitude problem, Detective Shayne Grey (Eric Szmanda). Even with her skills as a sensitive she never saw this coming…
Main Cast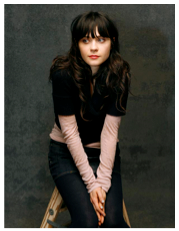 Zooey Deschanel
as
Detective Victoria "Tori" Lance
Victoria, more commonly known as "Tori", Lance is a Detective who's been working with the DCIU for three years. With a strong sense of justice and determination coupled with her evolving abilities as a Sensitive she would be one of the best detectives of the unit, if she wasn't constantly taking risks and mouthing off at her superiors. She's been reprimanded a number of times but the fact that she's family friends with the boss and been able to solve almost every case put in front of her as so far been enough to keep her job. She may be constantly crossing lines but the people around her can't deny her simple desire to find justice in the world.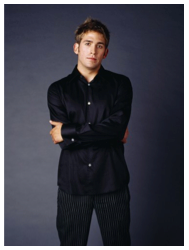 Eric Szmanda
as
Detective Shayne Grey
The newest transfer into the Barton DCIU, Shayne Grey is a cocksure, brazen detective who is, surprisingly, very good at his job. Though his work ethic is topnotch his undesirable personality has seen him moved between DCIU departments every year since he joined the unit. He's been told this time he has to make it work but will he be able to keep his personality in check when asked to partner with the snarky Detective Lance? Nora Fields has given him one last chance and if she requests his transfer out of her unit he can kiss is career in the DCIU goodbye.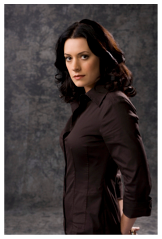 Paget Brewster
as
DCIU Special Agent Nora Fields
DCIU Special Agent Nora Fields is very good at her job. So good, in fact, that she's been offered numerous promotions and transfers to better paying and higher ranking positions. She's turned down every one. Nora is happy where she is, running the Barton division of the DCIU where she worked hard to earn the respect and admiration of those working under her. Being a friend of Tori's father has given her a soft spot for the younger detective but she attempts to remain as professional as possible while they're working together. Truth be told she's probably looked the other way far too many times when it comes to Tori's behavior but you'd be hard pressed to find anyone who would call her out on it.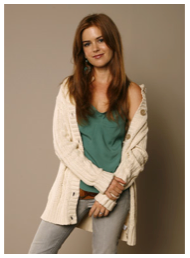 Isla Fisher
as
Dr. Cassie Brewer
Dr. Cassie Brewer is the rather eccentric coroner of the DCIU and Tori's long time friend. Cassie is much loved by all those working with the DCIU thanks to her vibrant personality and sense of humor. It's a pity she spends all day working with corpses. Even down in the morgue Cassie is able to light up your day with a smile or wry joke. Sure, she likes to wear rather bright clothes and has dubbed herself "Queen of the Dead" but she's the best friend and voice of reason (usually) that Tori couldn't live without.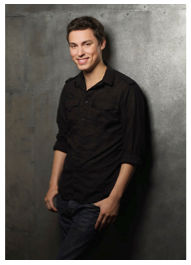 John Francis Daley
as
Technical Analyst Adam Parker
Though it was a little hard at first for the DCIU to take the young Adam Parker seriously he's quickly proving his place amongst the hardened detectives and has earned the affectionate (and slightly condescending) nickname of "Kid". A computer wiz at school, Adam was hired by the government as soon as he'd finished his education and moved between departments as needed until he was brought to the DCIU a year ago. He's Tori's go-to guy for information, partly because he's good at his job, partly because he hasn't turned her down yet. There are rumors floating around though that the reason he's so willing to help is that he's harboring a small crush on the detective.
Supporting/Recurring Cast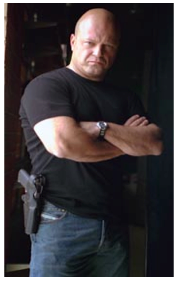 Michael Chiklis
as
Detective Lloyd Harmon
Lloyd Harmon has been working in the DCUI for decades and has been Tori's mentor and partner since she joined. He may consider Tori a handful but in his opinion she's also one of the best up and coming detectives he's ever been partnered with. Lloyd may come across as a big, scary guy but on the inside he's a real softy. He's never found time for a family of his own but has often stated that the Barton DCIU is all the family he'll ever need.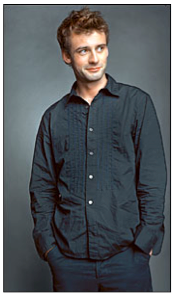 Callum Blue
as
Vincent Reed
Once a human with a bright future, now Vincent Reed is now nothing but a monster created by demons that crossed The Fracture. Driven insane by the demon blood in his veins, Vincent kills without mercy in an attempt to get closer to Victoria Lance. Why he must find Tori is a mystery even to him. All he knows is that it's the one clear thought in his mind as his sanity slowly decays.
Episode Guide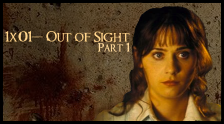 Episode 1.01- Out of Sight Part 1
DETECTIVE VICTORIA "TORI" LANCE'S DAY JUST WENT TO HELL – After a bad morning Tori (Deschanel) and partner Detective Lloyd Harmon (Chiklis) find out the Demonic serial killer (Blue) they'd been hunting for the last couple of months has killed again and this time he's getting personal. Distracted by a serial killers threat hanging over her head, Tori doesn't realize the danger some of her closest friends are in until it's too late. Also stars Brewster, Fisher and Daley.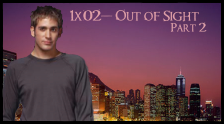 Episode 1.02- Out of Sight Part 2
THERE'S A NEW FACE IN TOWN- With Lloyd (Chiklis) out of action, Special Agent Nora Fields (Brewster) partners Tori (Deschanel) up with the new transfer, Detective Shayne Grey (Szmanda). While still trying to identify their mystery serial killer (Blue), Tori's going to find out that this game of cat and mouse they're playing is only just beginning. Also stars Fisher and Daley.
Episode 1.03- Troubled Waters
TENSIONS ARE HIGH AS THE NEW PARTNERS STRUGGLE TO WORK TOGETHER- Tori (Deschanel) and Shayne (Szmanda) are close to breaking point as their personalities clash. After failing to succeed in what should have been a simple apprehension, Special Agent Field (Brewster) threatens the pair with a suspension if they can't get their act together. But when it comes down to a life or death situation are the pair going to be able to put their differences aside or will their determination to hate each other be their downfall? Also stars Fisher, Daley and Chiklis.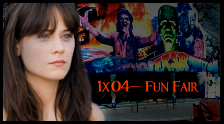 Episode 1.04- Fun Fair
SOME OVERZEALOUS DECORATING OF THE LOCAL CARNIVAL'S GHOST TRAIN POINTS TO DEMON ACTIVITY- When the heads of several missing people show up in the ghost train ride of Barton's bayside carnival Tori (Deschanel) and Shayne (Szmanda) are sent to investigate. This Demon is going to pull out all the stops to make sure this carnival trip is one the detectives won't be forgetting any time soon. Also stars Brewster, Fisher and Daley.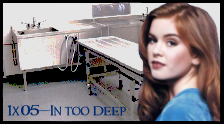 Episode 1.05- In Too Deep
A CASE HITS A LITTLE TO CLOSE TO HOME FOR CASSIE- When Dr. Cassie Brewer (Fisher) is asked to conduct a research-based autopsy on the body of a Demon she's more than happy to comply. That is, until she's cornered by another Demon who wants something their dead Demon had. Can she get a message out to Tori (Deschanel) in time or will her life ironically end in her own morgue? Also stars Szmanda, Brewster and Daley.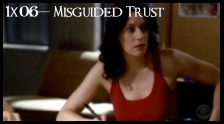 Episode 1.06- Misguided Trust
THE DEMONS ARE LEARNING QUICKLY HOW TO BEST CREATE CHAOS- It has been common knowledge ever since The Fracture that Demons like nothing better than to cause chaos but no one ever expected them to get creative. Tori (Deschanel) and Shayne (Szmanda) have their work cut out for them when a Demon manages to infiltrate a local government office and create panic in the city and it looks like the DCIU is it's next target. Also stars Brewster, Fisher, Daley and Chiklis.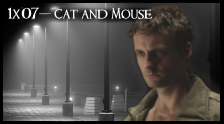 Episode 1.07- Cat and Mouse
THE MYSTERIOUS DEMONIC SERIAL KILLER RESURFACES- When murder victims begin showing up with their mystery serial killers M.O, Tori (Deschanel) and Shayne (Szmanda) find their cold case isn't so cold after all. As they race to stop the ever-increasing body count, will they see their killer's (Blue) trap or run right into it? Also stars Brewster, Fisher and Daley.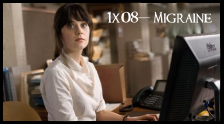 Episode 1.08- Migraine
TORI'S SENSITIVE ABILITIES ARE ON THE FRITZ- After her latest encounter with Vincent Reed (Blue), Tori (Deschanel) finds her Sensitive abilities aren't working quite like they normally should. When Special Agent Field (Brewster) forces her to take time off until she's feeling better, Tori takes matters into her own hands. Enlisting the help of Adam (Daley) she attempts to find out what exactly is going on in her head and if it has anything to do with the mysterious Vincent Reed. Also stars Szmanda and Fisher.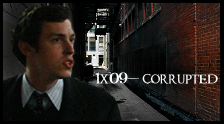 Episode 1.9- Corrupted
THEY'VE SEEN REGULAR PEOPLE TURNED INTO DEMONIC KILLERS AND NOW THEY'RE GOING TO FIND OUT WHY- Adam (Daley) is shocked to find out his brother is using and dealing drugs but things take a turn for the worse when he finds out this new drug is Demonic in origin. Tori (Deschanel) and Shayne (Szmanda) are quick to jump on the case while Lloyd (Chiklis) brings to light some new information that will change how they fight against the Demons forever. Also stars Brewster and Fisher.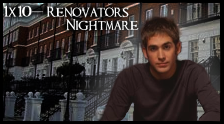 Episode 1.10- Renovators Nightmare
NOT EVERYONE SEEMS TO BE AS OPPOSED TO THE DEMONS AS FIRST THOUGHT- Tori (Deschanel) and Shayne (Szmanda) are surprised when they come across a small group of people petitioning for the rights of Demons. What appears to be a harmless cause quickly becomes a big problem when it's discovered that they're buying houses along The Fracture to use as Demon hotels. Will the DCIU detectives be able to convince them to drop their 'righteous cause' before the Demons they've helped decide to turn the tables?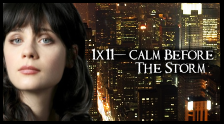 Episode 1.11- Calm Before the Storm
TORI'S PEACFUL WEEK IS DISRUPTED BY CONSTANT NIGHTMARES- What should have been an easy week catching up on paper work is tuned into an emotional rollercoaster for Tori (Deschanel) when her sensitive abilities decide to take over her dreams. Sleep deprived and stressed, she once again seeks out self-proclaimed Psychic and Sensitive Elise whose revelation is the last thing Tori wants to hear.
Also stars Szmanda, Brewster, Fisher, Daley and Chiklis.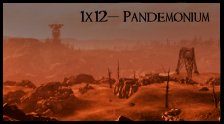 Episode 1.12- Pandemonium
WELCOME TO HELL- Tori (Deschanel) has been trying to track down Demonic serial killer Vincent Reed (Blue) for almost a year and when she comes face to face with him this time she's not going to let him slip away. Despite warnings from her friends Cassie (Fisher), Adam (Daley) and even her irritating partner Shayne (Szmanda) that she's getting too involved Tori digs deeper, but this time she'll find she's too deep to get out. Also stars Brewster and Chiklis.
Definitions
Barton:
A large harbor city where Edge of Vision is set.
Demon Crime Investigative Unit (DCIU):
A branch of the police force that was formed to deal specifically with crimes involving Demons and The Fracture. There are DCIU's in every major city.
Sensitives:
People who have a heightened connection to the natural energies that seep into our world through The Fracture. Sensitives vary in the abilities they possess and how well they can tap into the energies from Pandemonium appears to be different in every person.
The Fracture:
The Fracture is the name given to the breaks in the theoretical wall that separates the planes of existence. The Fracture lines act as a crossing point between Earth and Pandemonium. At the current time it is believed only Demons have the ability to cross between the planes.
Pandemonium:
The parallel plane of existence to the earth that we know. It is a place of destruction and its inhabitants seem to show no morals.
Demons:
The name given to the human like creatures that inhabit Pandemonium.
Production Notes
-I am aware that Zooey Deschanel is currently also cast in another show on the VPN but I have discussed it with Jake Malone who has told me that it should be alright for her to star in Edge of Vision as her role on her other show isn't major.
-
Edge of Vision
will have a first season consisting of the 12 episodes detailed above in the episode guide with a two episode opening (Out of Sight Part 1 and 2), nine mid season episodes and a one episode season finale (Pandemonium).
-A small bit of trivia:
Edge of Vision
came into creation last year as an attempt for Script Frenzy 09. It was inspired by the following prompt.
"This is a horror/drama. The story is about a psychic who is constantly opposing a murderer with demonic blood. It starts in a ghost town. The story begins with someone getting lost and ends with a funeral. It takes place in a large city in the future."