Post by A. Blackwood on Jan 1, 2018 2:57:29 GMT -6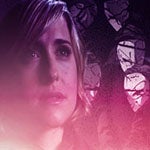 "Everyone's On Strings"
Review
Right off the bat, I just want to say that I really enjoyed the focus on Asher in this episode, and I never would have thought — just going off the pilot — that he would be the character that's most established and evolved from just three episodes in. I kind of accepted his relationship with Meredith as establishing his world, but this episode added more layers to him that I found really compelling and interesting and did a lot of great service to him that I definitely felt was needed, so props for being able to do that
through
the story and have it feel like an organic progress rather than a quick-fix or anything.
I think I knew going in there was no way I was going to be able to focus on three main characters in one or two opening episodes so I've planned for Asher, Evie, and Link to all have their moments during sequence 1. Knowing that I was going to have this focus on Asher so early meant I was able to stick to the bare minimum when introducing him because we were going to get a lot of info about him in the following episodes. It's the approach I'm trying to take for the whole series. Rather than dumping information or forcing it to the forefront in ways that seem unnatural I wanted it to be more a slow build, so you get a few bits and pieces every episode and gradually build the picture of who the characters are, how magic works, etc.
So, on the topic of Asher, his arc in this episode was definitely the highlight. I like that he's somewhat isolated from Link and Evie, and that Miles is taking a different approach with him to help him catch up. The way you incorporated more of his back story was very impressive. Instead of just telling us from the get-go that he's studying this, or his career is this, you found an opportunity in the story to bring that kind of information up and I thought it was a really great way to establish him and distinguish him from the rest of characters.
Like I mentioned above, I always knew what Asher was studying and that his thought process was going to impact on his ability with magic initially, but to fit all that into episode one was going to be really awkward. I'm glad you feel that the information is cropping up in an organic way too, because that's always been the intention but you never know how well you pulled it off until people start reading and reviewing, haha!
It also helped demonstrate how great a teacher Miles is, and so all of their interactions were really great character-moments for me. And I really loved that moment at the end when Asher finally worked around how his brain works to pull off a "magic trick" and had a little smug, proud moment before Miles quips about it not being as impressive as he would think. It's a dynamic I hope to see more of, and I hope we get to see how different Miles' dynamic is with the other two students should the story lean on a situation involving Miles/Link or Miles/Evie.
Miles is a much better teacher than he thinks he is and it does show through when he's one on one with Asher, Evie or Link. As you'll see in future episodes he also tends to adjust the way he interacts with each of them to make them feel comfortable while still maintaining his signature sarcasm.
And then, of course, outside of Asher's world of magic, we got another really great Asher/Meredith scene. I don't know why I just assumed that the "magic" part of it would be an explanation that puts it to rest and that it wouldn't really be brought up again between them, but I'm glad my assumption wasn't the case. I loved seeing Asher talk about what's going on and Meredith providing that "pros/cons" technique for him. It just continues to paint them in a positive light, and I think it's just such a unique take on a relationship in a sci-fi/fantasy kind of genre where someone is keeping part of their life a secret, because he still gets to speak the truth, and doesn't really have to be vague or annoying about it. They can still function as a healthy, normal relationship, and you definitely showcase that with this scene. And I can't stress enough how your approach to this relationship has side-stepped a frustrating trope that could have made this relationship unbearable to follow for more than a few episodes. So don't mind me praising the greatness of it in every review, haha!
To be totally honest I can't stand constant romance drama which is why I wanted Asher and Meredith to have a nice stable relationship from the get go. That's not to say they won't have their fair share of things that they'll have to work through but it's more than likely going to be them working as a team instead of them causing angst for each other. I'm glad you enjoy their dynamic though, and feel free to keep praising it, that is a-okay with me! Haha!
There was also a nice Link/Evie moment in this episode. It offered a few interesting things in an otherwise Asher-centric episode. With Link, we learned that he's studying photography, and that while he may be more advanced than Asher at magic, he's still ranking second out of the three. And with Evie, she's just an awesome character. I love that she's teaching herself things, and is the more advanced when it comes to magic. I'm definitely most excited to see her come into any sort of supernatural conflict because I feel like it's going to be epic.
This first sequence, especially the first 6 episodes, is a lot of building and establishing dynamics, and you'll find that it tends to swap around with each episode. Because this episode was going to focus on Asher/Miles, and to some extent Asher/Meredith, it was easy to then slip in some Evie/Link interaction because they didn't have a big role in the episode plot. It's a lot of fun slowly fleshing out all the characters though, and I only hope they you continue to enjoy learning about the cast of characters as the sequence progresses.
Speaking of which, the episode ended with Miles finally throwing them a bone. At first, I was a little bummed out at the information dump because things felt so much more balanced in the previous two episodes, but he didn't really divulge all that much information. They were still asking questions when the episode came to an end, so I don't really have a problem with it.
It has been such a fine line to walk with what to reveal and how to reveal it. Obviously there are certain things that need to come in chunks or it's not going to make sense but it's making the explanation/reveal of those not boring or overwhelming that I'm always worried about. I'm glad it worked decently well in this episode according to you- that gives me some really good guidance of how to approach situations where I have to get across a lot of information in future episodes.
It set up the next episode perfectly, and admittedly, it does feel like the right time to smack them with that truth-bomb — Link, Evie and Asher have all kind of embraced the premise of their situation, and so it's time to up the stakes and move things forward. Hearing "field work" has me ridiculously excited for the next episode. I'm itching to see these guys kick some ass, and to see what kind of conflict they have to face in these next few episodes.
Hopefully the next episode lives up to expectations! You always have such awesome reviews for me but every time I see a new one I keep worrying that it will finally be the episode that lets you down. Your feedback is always appreciated and just hope that you continue to enjoy the series.
So, overall, another really great episode. This episode definitely showed that it can manage character-centric episodes and still move the overall plot forward. It did a lot for Asher, and built him up really well. It also offered some nice dynamics with Asher/Miles, and Evie/Link. And it set up what I'm sure is going to be another really awesome episode. So, obviously I'm loving this show. It takes me way too long to sit down, read and review, but I promise I'm getting there, haha!
Again, thank you so much for taking the time to review! As mentioned it really helps me to see what's working really well, what I may need to do a little bit of work on and so on. I know my response was a little late but better late than never! Just know that I really appreciate your comments