Post by A. Blackwood on Jun 29, 2021 3:42:25 GMT -6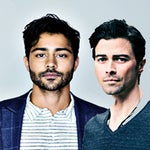 "The Little Bad" | REVIEW

Episode four starts off just as expected with the gang going on a stake out to find the enemy. We get to see a glimpse of another magic user in Pierce and it turns out that even though he almost got the upper hand on them during their fight later in the episode that he's pretty low level. That's surprising. While I was reading I was thinking "Man, so this is who they're gonna be up against." But it turns out there's even worse than him. Our heroes are in trouble. Hopefully Miles can get them better trained, and fast.
But onto the earlier part of the episode. I liked the stake out. How you divided them up into two groups and we got a little bit of a Link and Asher moment. I enjoyed their talk about Meredith and the relationship between her and Asher. Every episode we're getting a little bit more about that relationship and its really becoming a main focus or at least a pretty prominent side plot. I'm wondering whether or not we're gonna go back into the other characters' personal lives as well. So far we've only talked a little bit about how Link's studies in the last episode but I'm hoping to see more of that soon. Along with Evie's home life as well. But in this webisode format it can be quite the task to try to move the main plot forward while covering the extra ground of keeping up with every characters personal lives. You're doing a really job so far with pacing and keeping a balance of character and plot. I'm just really interested in finding out more about these characters. So good job there.
That action sequence was really fun to read and very well written. Action scenes are always a kicker for me and they're difficult to get just write, especially when you're limited to just magical blasts and spells. But you really painted a nice picture and it was very entertaining. I look forward to reading more scenes like that in the future and you should have fun coming up with new cool ways to describe different spells and attacks.
All in all, another solid installment. This show is really moving forward nicely. I can't wait to see what happens next with Pierce going to The Guild. Should be lots to digest there.
Thanks for another review Jamison!
I'm glad you enjoyed the character pairings this episode. They all have a very fun dynamic to write no matter which way you pair them up and it's great when I can see people picking up on that and finding it fun to read. It's very try that the Asher/Meredith subplot is quite prominent at the moment as currently it has the highest stakes, but I promise we will definitely be seeing some more of Link and Evie's home lives/outside of magic lives in the second half of the sequence.
That's high praise for the action scene, and they're actually some of the scenes I find hardest to translate from my head to the page. That said I'm so happy you find them well written and hopefully I can deliver action scenes of equal or better quality in the future.
Thanks so much for the review (again). I do think you'll be a little surprised with the direction in the next episode (and hopefully it's not a bad surprise) but once you've read it feel free to look at my reply to Jay's review of episode 5 for a little more explanation