Post by Aimee Nicole on May 27, 2011 0:06:44 GMT -6
EXCLUSIVE INTERVIEW: FAMKE JANSSEN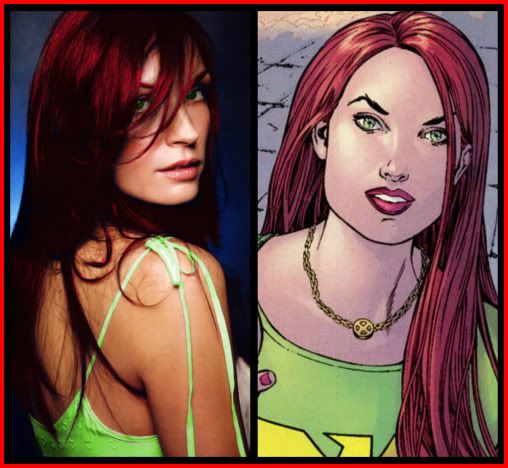 With the series premiere aired and the season kicking off into full-swing, we've sat down with one of the main gals of "The Outcasts". Famke Janssen will be making her debut as Jean Grey, codename Marvel Girl, next week in "Demons Among Us". We had a few questions for her, seeing as how she looks a little less "alternate" than the roles played by previously interviewed cast members Missy Peregrym and Jessica Biel.
So you're playing the Professor's "Golden Girl" Jean Grey. You've been in this role before, so what's the difference?
"A better question would have been what isn't the difference," Janssen laughs, "This Jean is a lot different than the Jean that I've portrayed before. The first Jean was older, more reserved. She was accomplished, mature and professional."
She pauses, and then adds, "This new Jean is a lot younger,
a lot
. She's got an attitude and a really big mouth on her that gets herself and others into a bit of trouble. She hasn't done anything with her life because she's been locked up since around when she first hit puberty. That has built up a lot of rage and resentment in her as well, so it's really different. But she's still a caring individual and determined. She won't back down."
"When people think of Jean Grey, they think of Uncanny X-Men," Janssen concludes, "but when you think of this Jean Grey, you're supposed to think Ultimate X-Men. From what I understand, the producers heavily based the Jean of the Outcasts on the Jean of Ultimate."
Can you tell us anything about what's in store for Jean this season?
"Oh God," she chuckles, "a lot of action, and not just fight scenes. I wasn't lying when I said her mouth gets her in trouble, particularly when it comes to another redhead. She's also destined to become the second-in-command of the X-Men, so she discovers that while it may not be
as
natural as Cyclops', Marvel Girl has a pretty good sense of leadership as well and that will really show as the season progresses."
How do you feel about the role of Cyclops being portrayed by a woman this time around?
"It's an interesting change," she admits, "but it's not a problem at all. Jessica Biel is great to work with, and we really enjoy our scenes together. The contrast between the two characters is fun, and stays true to at least
one
of the many relationships between Cyclops and Marvel Girl. I say this because the producers have also stated that Kristen is heavily based off the Scott Summers that you see in Ultimate X-Men."
We heard that Jean plays an important role in the future through foreshadowing. What can you tell us about this?
"Not too much," Janssen tells us, "but Jean was thrown into a mental institution because her father basically didn't like that she was a mutant. So she's not crazy, per se, but she is known to hallucinate. It's through these hallucinations that we get a glimpse into the possible future of our X-Men, and Spider-Girl of course."
Catch Famke Janssen's first episode next Tuesday, May 31st! Sound off below!