Post by Brady Brown on Jul 18, 2015 11:52:12 GMT -6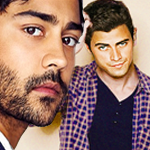 4.05 "Let's Go Out"
Alisha/Rose interaction! F-CK YEAH! I just love it when the girls together. Can we just stop to talk about the female characters in this show. Like one.... there are so many of them. And two, they're so different from one another and equally as interesting and it's just amazing. Love love LOVE your female characters. But back to Alisha and Rose. Upon going to this mixer, we meet the lovely Kelsey Marks for the first time. A character who I was sooo excited for and she's finally here! Really loved the awkward moment between her and Alisha. I think their relationship can go soo many interesting places and I'm so here for it, you don't understand! haha!
I'm hoping to squeeze more Rose/Alisha in arc 2! I really love them together. And awww thank you! That really means a lot to me to know that you enjoy all of them and find them all so different. Yes! So glad you're here for Kelsey haha
David and Mia's scene gave me everything. This is a dynamic I didn't see coming at all, and I'm really intrigued by it. It feels so natural and it looks like its helping peel some of Mia's layers back which could possibly lead to some kind of redemption arc for her. We're really getting to see her in a new light, which I really enjoy. Her being able to confide in David is interesting. I loved their interacts and hope for more of them! Alex basically bouncing down the hallway, excited about having a girlfriend was so adorable. I'm glad he's so happy, even though it was such a short moment.
I think David and Mia have a really nice relationship that was pretty much founded on horrific events. They're definitely going to develop over the course of this sequence, and I can't wait to see whether you like them or not!
Michael is lost! He doesn't know what he wants to do, but feels he needs to be a part of something. And I appreciated the fact that Paula is helping him do that. Thanks for that.

But lemme stop acting like I don't know what's about to happen. But I'm excited for him. Excited for more storylines involving Michael and for him to step into the spotlight more!

HAHAHA! You know, you know. You knew before erryone!
Very solid episode that introduces a bunch of cool stuff. Looking forward to seeing more Kelsey, further exploring the relationship between David and Mia (and just Mia's development as a character). Nice work here, Brady!
Thanks again, Chris! Your thoughts are always appreciated