Twelve
Sept 18, 2012 19:53:19 GMT -6
Post by Brady Brown on Sept 18, 2012 19:53:19 GMT -6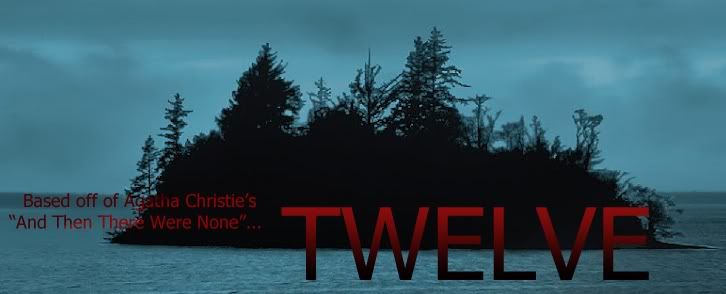 Based on Agatha Christie's best selling book, "And Then There Were None".
Twelve guests.

Twenty four hours.

One killer.

Premise:
On a mysterious island, just off the coast of California, twelve strangers (or, supposed strangers) have been invited, by an unknown host, to a dinner in their honor. But, what they soon realize is that everyone is there for the same thing -- a diner in their honor. And once their "host" continues to remain a no-show, the guests begin to grow impatient, and begin to leave, but the sudden loss of electricity spooks them all. And once the lights turn back on, eleven guests remain, while the twelve lies in the middle of the floor dead. Everyone begins to point the finger, and soon realize they must call the cops, but their service has been shut off. Attempting to escape, they realize the boat they came on, won't return until morning, which gives the killer an opportunity to strike again, and again, and again, until twelve becomes zero.
Characters:
Adam Kashore:
a rich, spoiled, self-absorbed bachelor, who wants two things in life -- money and women. When he reaches his goal of 2 billion dollars, he celebrates the best way he knows how, by spending his money. And when he gets an invitation for a dinner in his honor, he jumps on the opportunity. But how will the billionaire act with a killer in the house? Portrayed by Jason Isaacs.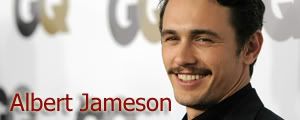 Albert Jameson:
an architect who has just finished the blueprints for the newest skyscraper in the city of Los Angeles. Determined, he is reluctant to attend the dinner in his honor, but he ultimately decided to go. Will he last long enough to finish construction? Portrayed by James Franco.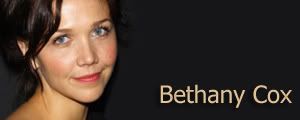 Bethany Cox:
a good soul at heart. She's a teacher who has just become the principle at the high-school she works at. She's intellegent. Very intellegent. Her and her husband both agree that a dinner in their honor would be a perfect date. But will her and her husband have time for another one? Portrayed by Maggie Gyllenhaal.
Eric Cox:
a I-hate-my-job-so-much kind of guy. He works as at the post office, but has just recieved news that he will be working as a real estate agent starting Monday. He and his wife unanimously agree that they must celebrate with a date, due to both of their accomplishments. But will he be able to report bright and early Monday morning?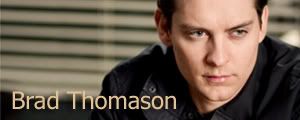 Brad Thomason:
a police officer just promoted detective. He's stern like a drill sergeant, and his intellect is superb. He doesn't really associate with any of the other guests, until he steps up to the plate, and leads the group to discover the killer's identity. But can he solve his own, possible murder?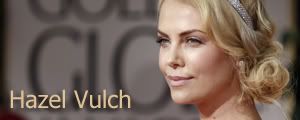 Hazel Vulth:
a sophisticated fashion designer, who has just found out the news that her dresses will be featured in a fashion show. Dedicated to her work and ego, she goes to the dinner alone, thinking anyone there will swoop her off her feet. Or will they try to kill her instead?
Kevin Acworth:
a young, handsome cross country coach, whose runners go googly-eyed over. He's humble nice, and runs marathons in his spare time. After winning one he had be training for, he is invited to the island, and is exstatic to come. And once there, he's thrilled beyond measure, until the bodies begin to pile, one of which, might included him.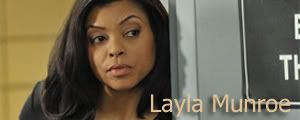 Layla Munroe:
a gossip collumnist who sticks her nose in everyone's business. She ruins lifes and doesn't have a shred of guilt. She was just given a raise, and all she wants to do is go out partying, drinking until she falls on her face. But will sticking her nose in other people's business cost her her life?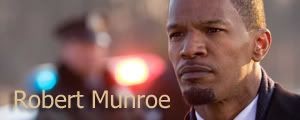 Robert Munroe:
the editor for his wife's magazine. He gives her so much special treatment, it's insane. He plans on a night partying in the town after he gives his wife a raise, but his invite is such a better partying plan, they instantly jump on the boat there. He's selfish and arrogant, which may get him killed.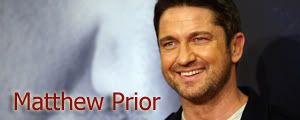 Matthew Prior:
an author who has just published his first book. He's sarcastic and witty, which makes him a favorite among the crowd. And once he arrives on the island, will someone get annoyed by his personality, and silence him for good?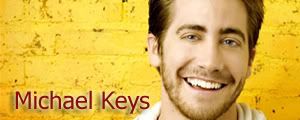 Michael Keys:
a happy-go-lucky sort of man. He and his newlywed wife are attached the hip, and lips, almost all of the time. Will that get them killed or keep them alive?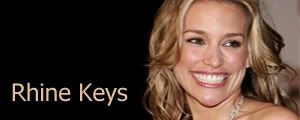 Rhine Keys:
a life-loving newlywed, who is the sweetest person ever to everyone she meets. Will her personality help her survive, but how far can sweetness get you in a house with a killer?
Episodes:1.01 - You're Invited:
Twelve strangers (or supposed strangers) have been invited to a mysterious island mansion, for a dinner in their honor, recognizing a special achievement they have recently achieved. But once they all arrive, they soon realize that they're all their for the same reason. And when their "host" is a no show, the guests begin to grow impatient, and attempt to leave, but when twelve becomes eleven, the remaining dinner guests are forced to fend for themselves with a killer lurking in the house.
Production Notes:
Now, I know what you're thinking.. "Brady, WHAT THE HECK?! ANOTHER pitch?!" Well, yes. XD But hear me out! This popped into my head about a week ago, and has been eating away at me ever since. I just had to get it out there! This is nowhere near development, trust me this time. XD Maybe I can have a pilot description, if you guys are even interest in this, up by the weekend. But I don't want to put a lot of work into something that nobody is interest in, so please leave some comments down below, positive or negative, I don't care. XD Any feedback is appreciated. Thanks again, guys!